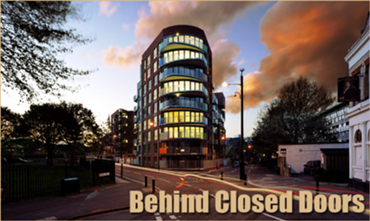 Behind Closed Doors is a brand new London based soap opera set in the fictional borough of
Westbridge
. Behind Closed Doors aims to be a gritty yet captivating project with characters readers will grow to love and live through the trials and tribulations within their lives. BCD (Behind Closed Doors) is a brand new project from
Hannah Productions
, creator/producer of award winning projects including London based drama series
City Girls
, island based soap opera
High Hopes
and murder mystery drama 
Cross My Heart, Hope To Die.
"I've been toying with ideas for quite a while now and a new soap project has been the one that has stuck in my mind for all this time" explains Hannah "I have spent weeks planning each character and handpicking cast members and I am now ready to reveal to the world. It will be a challenge to keep two soap projects running alongside each other, but I wanted to tackle something a little different. I live in London and it seemed an appropriate choice for a setting. I've thought carefully about each of these characters and I am really excited to delve deep into their lives."
BCD launched on Friday 4th April 2014 as part of the forum's MegaMash event, the event saw BCD launch a three episode test run which concluded on Friday 18th April 2014. It has been confirmed that BCD has been commissioned for a full season, Season One continued on Friday 2nd May 2014. Due to personal reasons, BCD went on hiatus in June 2014, but is set to return this Autumn.
As of Sunday 5th October 2014, there has been 12 episodes.
Unfortunately on Saturday 1st November 2014, Hannah announced that BCD will be shelved due to work commitments.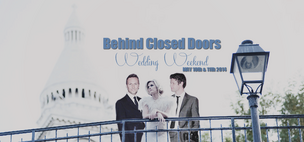 Behind Closed Doors began as a three episode trial run during the Writer's Express MegaMash event. It was quickly confirmed that BCD had been granted a full season and the series contined on Friday 2nd May 2014.
BCD's first big weekend was promoted as #WeddingWeekend. The special double saw nurse Jen Riley make the decision whether to go through with her wedding to Henry Richardson after her affair with Henry's best man Samuel Drake.
Behind Closed Doors' CastEdit
Present Cast
| Character | Actor | Duration | Episode |
| --- | --- | --- | --- |
| | Nicky Henson | 2014 - | 1x02 - |
| | Fiona Mollison | 2014 -  | 1x01 - |
| | Jill Halfpenny | 2014 - | 1x01 - |
| | Jimmy Akingbola | 2014 - | 1x01 - |
| | Aaron Fontaine | 2014 - | 1x01 - |
| | Shahnequa Duprey | 2014 - | 1x01 - |
| | Amy Robbins | 2014 - | 1x01 - |
| | Sophie Austin | 2014 - | 1x01 - |
| | Jessica Brown Findlay | 2014 - | 1x01 - |
| | Kelsey Beth Crossley | 2014 - | 1x01 - |
| | Charlie Behan | 2014 - | 1x01 - |
| | Jesse Birdsall | 2014 - | 1x03 - |
| | Michelle Collins | 2014 - | 1x02 - |
| | Matthew Goode | 2014 - | 1x01 - |
| | Leon Ockenden | 2014 - | 1x01 - |
| | Sarah Jayne Dunn | 2014 - | 1x01 - |
| | Neil McDermott | 2014 - | 1x02 - |
| | Louisa Lytton | 2014 - | 1x01 - |
| | Ken Farrington | 2014 - | 1x03 - |
| | Danny Midwinter | 2014 - | 1x01 - |
| | Alex Walkinshaw | 2014 - | 1x01 - |
| | Natalie J Robb | 2014 - | 1x01 - |
| | Jacqueline Jossa | 2014 - | 1x01 - |
| | William Rush  | 2014 - | 1x02 - |
| | Richard Mylan | 2014 - | 1x01 - |
| | Darragh Mortell | 2014 - | 1x01 - |
| | Hetti Bywater | 2014 - | 1x01 - |
| | Sacha Parkinson | 2014 -  | 1x10 - |
| | Matt Di Angelo | 2014 -  | 1x11 - |
Guest Cast
| Character | Actor | Duration | Episode |
| --- | --- | --- | --- |
| | Lizzie Roper | 2014 | 1x05 |
Cast Changes
| Character | Actor | Arrival/Return | Departure |
| --- | --- | --- | --- |
| | | | |
The Behind Closed Doors' Character Appearance CountEdit
As of: Sunday 5th Otober 2014 | Number of Episodes to date: 12
| Episodes | Character |
| --- | --- |
| 11 Episodes | Liz Keating, Nadine Keating, Gemma Westbourne, Henry Richardson, Jen Richardson |
| 10 Episodes | Tess Drake, Carrie Westbourne, Nick Drake |
| 9 Episodes | Robyn Drake, Lucas Keating, Tom Richardson, Will Keating, Maggie Turner, Rachel Westbourne, Katie Richardson, Karen Richardson |
| 8 Episodes | Michael Drake, Abbie Westbourne, Andrew Richardson, Millie Powell |
| 7 Episodes | Samuel Drake, Pete Turner, Robert Lyons, Adam Kent |
| 6 Episodes | |
| 5 Episodes | Ben Richardson, Simon Richardson, Stanley Drake |
| 4 Episodes | |
| 3 Episodes | |
| 2 Episodes | Scarlett Benson |
| 1 Episode | Carmel Riley (Guest), Josh Beresford |
| Yet to Appear | |