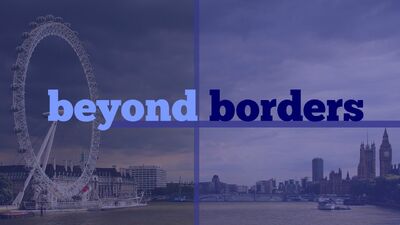 Beyond Borders - commonly abbreviated and referred to as BB - is an upcoming Writers Express serial drama, created by Walfman (Walfman Entertainment), who also writes and executive produces the soap. 
The soap is set in the fictional London suburb of Knightswood, and focuses on the domestic and professional lives of the residents.
It was originally created in March 2013 as a secondary soap to Walfman's popular soap at the time, Diamond Days, but was shelved at the last moment. The soap opera was then revived back in June 2014 by Walfman, who spent two months planning and preparing the storylines, but in early September 2014, Walfman announced the show was to be rebooted from scratch, after he grew unhappy with the show's direction.
It was revealed that the new version, due to launch mid to late October 2014, will see new businesses and characters introduced and a substantial number of characters and businesses in the former version being scrapped. The show would relocate its residential setting from Bishop Court to Knights Street, which is in the fictional suburb of Knightswood. 
On September 14th 2014, it was confirmed that Beyond Borders would air from Monday 20th October 2014 with a special five night week. However, after several delays, it was confirmed the show would relaunch in early November - with a provisional date of Wednesday, November 5th 2014.
On Saturday, November 1st 2014, Walfman confirmed that he had decided to axe the soap to focus on some upcoming projects to launch as part of the second MegaMash.
Starting Cast

Edit
| Status | Character | Actor | Duration | From Episode |
| --- | --- | --- | --- | --- |
| Regular | Kieran Anderson | Kit Harington | 2014 - | TBD |
| Regular | Ryan Anderson | Sebastian Stan | 2014 - | TBD |
| Regular | Michaela Atkins | Kirsty-Leigh Porter | 2014 - | TBD |
| Recurring | Nicole Atkins | Daisy Wood Davis | 2014 - | TBD |
| Regular | Kieran Bennett | Michael Parr | 2014 - | TBD |
| Regular | Erica Carter | Sarah Jayne Dunn | 2014 - | TBD |
| Regular | Hannah Carter | Holly Kenny | 2014 - | TBD |
| Regular | Tony Carter | Graham Cole | 2014 - | TBD |
| Recurring | Anita Davenport | Madeleine Howard | 2014 - | TBD |
| Regular | Craig Davenport | Charlie Wernham | 2014 - | TBD |
| Regular | Lauren Davenport | Kelsey-Beth Crossley | 2014 - | TBD |
| Regular | Michael Davenport | David Tennant | 2014 - | TBD |
| Regular | Rebecca Davenport | Madeline Duggan  | 2014 - | TBD |
| Regular | Jason Desai | Avan Jogia | 2014 - | TBD |
| Regular | Ayesha Devani | Zahra Ahmadi | 2014 - | TBD |
| Recurring | Matthew Edwards | Chris Ramsey | 2014 - | TBD |
| Regular | Amanda Hall | Catherine Russell | 2014 - | TBD |
| Regular | Sasha Hall | Amanda Mealing | 2014 - | TBD |
| Regular | Luke Joseph | Lucien Laviscount | 2014 - | TBD |
| Regular | Jun Katona | Will Sharpe | 2014 - | TBD |
| Regular | Natasha Martin | Danielle Harold | 2014 - | TBD |
| Recurring | Alex Moore | Luke Pasqualino | 2014 - | TBD |
| Regular | Patrick Neilson | Eugene Simon | 2014 - | TBD |
| Regular | Siobhan Ormerod | Charley Webb | 2014 - | TBD |
| Recurring | Alan O'Rourke | Charles Dance | 2014 - | TBD |
| Regular | Dawn O'Rourke | Eva Pope | 2014 - | TBD |
| Regular | Sky O'Rourke | Megan Prescott | 2014 - | TBD |
| Regular | Adrian Tanner | Lewis Rainer | 2014 - | TBD |
| Regular | Billy Tanner | Liam Cunningham | 2014 - | TBD |
| Regular | Samantha Tanner | Abby Mavers | 2014 - | TBD |
| Regular | Amanda West | Samantha Bond | 2014 - | TBD |
| Regular | Ellie West | Hetti Bywater | 2014 - | TBD |
| Recurring | Barbara 'Babs' Williams | Barbara Young | 2014 - | TBD |
| Regular | Damien Woodgate | Dougie Poynter | 2014 - | TBD |